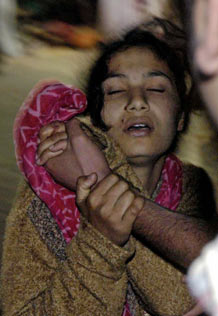 I have been down in the last couple of days. Cried my heart out under the shower. If you've been on a holiday in Mars then I should tell you why, it's the Eid incidents ya fakeek!
You see, I do not know ONE female in Egypt who wasn't sexually harassed. As a child of 5, I was molested by one of the guards (very old man) of the sporting club my family went to. As a teenager, I was harassed and abused by an older cousin and another relative. As a student, I ONCE got onto a public bus and you know the rest of the story (Please hold this thought.. Isn't it sad that you know the rest of the story?). At work (in Egypt), I was almost raped by my boss who, to the outside world, was happily married to this wonderful lady, but he was nothing more than a fat pig with chocolate salty balls!
Thankfully nothing major happened, but it did definitely leave its marks on me. I get attacks of "unexplained"(roll eyes bel2awy!) anger at the mention of men and women and relations in Egypt.
Now my two younger sisters got their boobs and genitals touched and squeezed at least once a week on regular basis, until one of them landed in depression and refused to leave the house and doesn't even open the door to anyone who is suspected to have a penis. The other (newly wed) moved to live with her husband in the middle of nowhere and has a huge guarding dog trained to bite off any penis upon request. (Enjoy the thought guys, evil grin).
Now if you're the type of person who thinks of rape and harassment as the woman's fault, then please bugger off and never read this blog again and I hope to God you die and live to eternity with a hot and glowing pole up your hole. Amen.
Now the sharameet at the Ministry of whatever the bug it's called, Interiors is it? Interiors my anus, what do you exactly understand under Interiors? Huh? Is it the guts you're filling all day and farting the night away afterwards? What exactly are you doing ya sons of puppies? only when women and peaceful demonstrators march out you come out and molest or beat the crap out of them? God is watching you in case you think of yourselves as big brothers. Oh and speaking of big, I suggest you do nothing about those Koroosh of yours!!!
Oh yeah back to the Ministry of Interior Kaka. Now you deny what happened because none of the young ladies reported abuse. We7yat ommokoo? Since when do we dare open our mouths and speak up of abuse? You ruin our lives and we become the face of sin if we did. Mesh keda walla eeeeeeeeeeeeeeeeeh?
In one of my next posts I will discuss verbal abuse. Which is sometimes even worse than the touchy feely poky grappy fingery squeezy pinchy slappy stuff.
Nothing works with those bastards. Please don't start the old religion and manners song. That's history ya baba. Now it's war time. Fear is the master of all manners and nothing will stop them but fear. I do not want to leave this earth before this terror of women in Egypt stops.
Castration is a great option. (You should see my face as I write this)
Have I ever mentioned that I have received some training in surgery and am willing to apply it upon request? (Big mother-bugging evil grin)
Okay I feel a bit better now. Thanks for listening.
Oh not really yet actually.. One more thing then: Tfooooooooooooooooo!! (a huge slimy one)
Aaaaaaahhhhhh!
Have a nice day.